NIS-MB Modbus Modem
From nemeuswiki
[[File:|thumb|400px|Modbus Modem]]
1

General information
1.1

Overview
LoRa™ WAN 1.0.2 EU Class A & C

Activation by Personalization (ABP)
Over-The-Air Activation (OTAA)

SIGFOX™ ready

Fully certified on major LoraWan & Sigfox networks

Easy to use and deploy

3.6V / 2200mAh Primary battery Li-SOCl2 embedded

Magnetic switch and LED to ease the installation

RoHS conform / Pre-Certified ETSI EN 300-220 / RED compliance under certification
1.1.1

RF Performance
TX Power 14 dBm (25 mW)
RX Sensitivity -137 dBm
Approx. 10 km range
Integrated PCB antenna
1.1.2

Environment
Operating temperature -40°C to +85°C
Storage temperature 30°C recommended (to limit battery self-discharge)
Rel. humidity 0% to 95% (not condensing)
1.1.3

Options
External antenna
SDK for your SW development purposes
10-30V external power supply
Compatible with the NEMEUS PicoGateway for private networks
1.2

Installation
By using the internal antenna, the position of the sensor is critical.
Install your product as high as possible, and prefer unobstructed area (concrete and metal are the worst materials).
If you cannot fulfill these conditions, it is still possible to use an optional external antenna.
2

Mechanics
Dimensions 60 x 95 x 85mm (109mm including fixing brackets)
96mm spacing between brackets
IP 65
Solid ABS & PC material
3

Features
three modes: UART CMOS level, RS232 and RS485 bus.
Modbus slave device.
allows to connect a PLC to sigfox or LoRaWAN network.
4

Wiring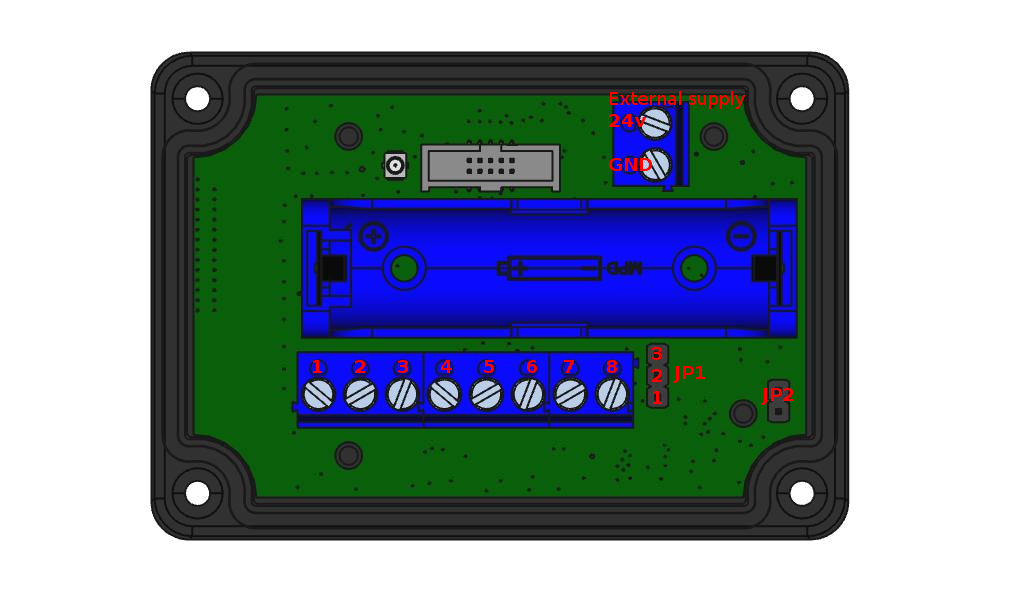 Target settings
Target connection
1 : GND
2 : GND
3 : CMOS_UART_TX
4 : CMOS_UART_RX
5 : A_RS485
6 : B_RS485
7 : RX_RS232
8 : TX_RS232
JP1 and JP2 are NC.
By software configuration, three possible modes are available: UART CMOS level, RS232 and RS485 bus.
Connect your power supply to the terminal block as shown in the picture.